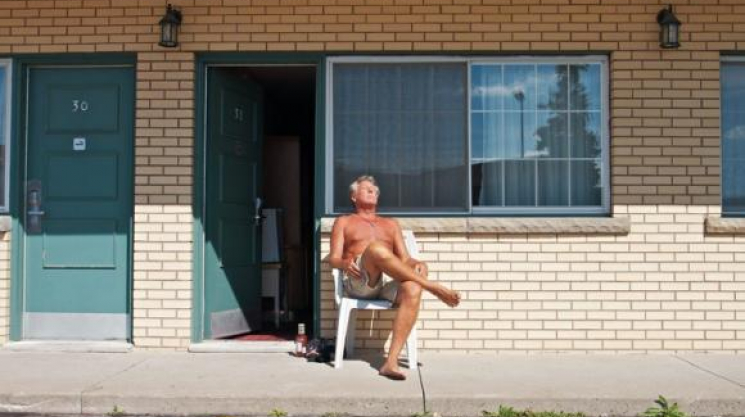 Fri, 06/01/2012 - 13:29 by Douglas Haddow
Oliver Pauk & Zach Slootsky: Motels of Niagara Falls
Say what you will about the Drake Hotel and its mini-empire, they're certainly not afraid to try new things. Ice cream, pulled pork BBQ, vintage clothing, antique furniture: you name it and they'll build the pop-up shop. Of course, if they want to maintain their rep as "creators" and "innovators", they need more than just retail concepts; they need to give something back to the community, be a "hotbed for culture".
Hence the Drake Lab. In addition to their regularly scheduled art exhibitions in the hotel itself, the Lab offers free streetside studio space to artists and performers for two-week residencies. The latest installment, in partnership with the CONTACT Photography Festival, is "Motels of Niagara Falls", a survey of documentary photographs excerpted from the larger "Motels of Canada" project by Oliver Pauk and Zach Slootsky; Slootsky is actually appearing in the Lab for the second time, since a selection of his concert photographs made up the space's inaugural exhibit back in December.
Niagara Falls is obviously still a popular tourist destination, but having really boomed during the mid-century explosion of highways and hotels, it's become a virtual museum of dated and decaying architecture and décor. Pauk and Slootsky have captured all of its faded glory. Empty, leaf-clogged pools, quaint kitsch furniture, and sunbleached stucco abound in their studies of those stopovers least likely to survive into the next era, plus a few that have already succumbed, like The Anchor Boat Motel. Abandoned and deserted, its remains linger, guarded by an archaic Pepsi machine.
The photos are made more poignant by the inclusion of a few portraits of the hotels' proprietors, mostly cheerful septuagenarians and solemn immigrants, whose faces remind you that the loss of these businesses have real consequences. When presented in The Drake, though, these images of nostalgia for tourism's bygone past take on a tinge of perverse irony that can't help spreading to the vintage store and gift shop on either side. Having displaced the traditional mom-and-pop rest stop, The Drake can now sell off artifacts (or imitations) of the vanishing past at a premium.
This uncomfortable vibe of kitschsploitation is enhanced by the installation décor, which uses a bed, a TV, and some other "contextual artifacts" (including an ugly floral bedspread, dusty rose lampshade, Bob Ross-esque landscape painting, and sad-looking snake plant) to complete the faded hotel-room ambiance. Altogether, the show reads as an awkward combination: a sincere elegy for some of history's losers and a smug parody presented by the guys on the winning side.