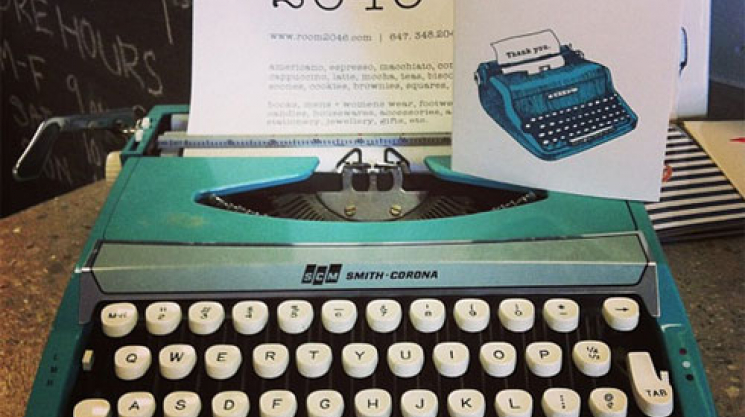 We love it when we find shops that are gems off of the beaten path. Located in the quaint neighbourhood of Summerhill/Rosedale area in Toronto, Room 2046 is a multi-disciplinary lifestyle brand comprising of a shop, cafe, and studio. Shopping, caffeine, and culture—what more could we ask for.
Offering an eclectic selection of quality, well-designed merchandise ranging from apparel to housewares, accessories to apothecary, Room 2046 sources their stock locally as well as internationally. We were thrilled when we found the Terrapin Stationers cards amongst a wide selection of correspondence items such as journals, notebooks and greeting cards. Room 2046 is a perfect place to shop for gifts. (We could of probably done all of our holiday shopping here alone, with of course treating ourselves to something as well.)
Whether it's a gift for a friend or something to add to your own wardrobe or home, or even just an espresso-based drink and baked good (gluten-free available), we promise you won't leave Room 2046 empty handed. 
We chatted with owner, Kumala Nio while she made us a 'Valmonte' (vanilla almond milk latte) during our ION SHOP SERIES Q&A:
What is the inspiration behind your shop?
I wanted to bring a neighbourhood-cafe sensibility into a retail environment that places emphasis on design and quality craftsmanship, but also to create a brand and space that fosters creativity. I suppose that Room 2046 is the culmination of all the memorable elements, so far, drawn from a lifetime of travelling, learning, exploring, listening, observing, watching, reading, eating, drinking, creating...
What does this location mean to you?
People generally tell us that Summerhill is not an obvious area for a shop like Room 2046. Enough said, we're here to surprise. 
What music is on your shop playlist?
Trap all day, every day.
Really, our taste in music is eclectic, just as our products are. We could start the day playing Brazilian Tropicalia from our own vinyl collection to James Brown or Ghostface the next hour, to Afro beat/60s psychedelic Bollywood music the next minute, to some free jazz records that a customer has lent us and end up listening to Disclosure and (lately, A LOT of) Flume and RL Grime for the remainder of the day. 
What is your favourite piece in the shop?
The turquoise vintage Smith-Corona typewriter that everyone keeps asking whether it's for sale. It's not. Bahaha.
What are your top three places to go to in Toronto?
Little Portugal along Dundas West. There are many cute shops to check out and great places to eat and drink. 
Little Korea for cheap eats and it's not just good Korean. There's an amazing little taco joint called Tacos el Asador. Grab one and bring it to the nearby Christie Pits.
The LCBO down the street from our shop is pretty epic. Aside from having the largest selection of booze in the country, the space used to be a train station. 
Room 2046, 1252 Yonge Street, Toronto
Photos courtesy of Room 2046