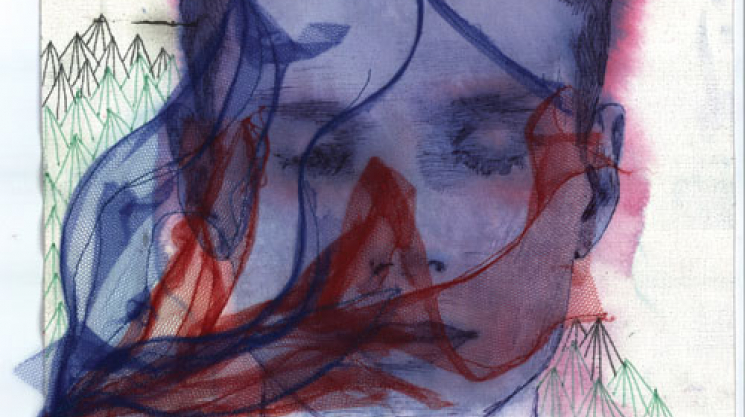 RAF SIMONS #15
Should we talk about how cool embroidery is? Your grandma does it. We did it in kindergarten. It was awesome! André Azevedo fuses several artistic techniques; drawing, painting and even sewing over fabrics to build layered pieces. Azevedo's work reflects his observations of the small gestures and actions of people and the manipulation of the human form. The many textures and layers create an illusion of frozen movement in the eyes of the viewer. In his current series titled Raf Simons #15, Azevedo works with pen, pencil, watercolor paint, and tulle on canvas to pay tribute to iconic designer Raf Simons and his 15 year legacy in the fashion industry.
André Azevedo was born in Curitiba, Brazil. He went to the Universidade Federal do Paraná, where he studied design. He began a career as a Ford Model agent, and then moved into art direction, where he began winning awards for his work. Now he's moved into mixed media and at only 32, the Brazilian's work has already been seen all over the world. In 2009 he began to garner attention when his work appeared in The NYC Affordable Art Fair at the Living With Art gallery. The next was a big year. Azevedo's work appeared in the 2010 Brazillian Design Biennial and was accepted into the Brazilian Sculpture Museum of Sao Paulo. This was also the year he collaborated with luxury car brand Alfa Romeo and was contracted by Lacoste to participate in a unique art project, PEACETU.
The project´s aim was to highlight fashion, music and art in the French-Brazilian cultural axis. Eight artists (three French, five Brazilians) gathered in a home-studio in Santa Teresa to create the exposition, Héritage, a creative experience between the two countries, inspired by the story of Rene Lacoste and its brand.
Azevedo's times in the fashion industry appear to heavily influence his work by his demonstration of his love for the human form. It was a fashion journalist friend of Azevedo's who suggested combining his two passions, fashion and art. In his new series, Raf Simons # 15, he does just this. He utilizes three seemingly disjointed mediums in an extremely subtle way. His use of bold colours and a heavier hand than in his previous work demonstrate Simons' industrial stylistic influence. Like Simons' work that celebrates youth, Azevedo uses layers to highlight the nuances of body shape and line.
Although Belgian fashion designer Raf Simons may not be all that well-known to the average consumer, he's worshipped by fashion industry insiders and considered by many in the business to be the top menswear designer working today. Simons was born on January 12, 1968, in Neerpelt, Belgium in a small Flemish village near the German border, in a world he describes as devoid of arts and culture. "I was an only child. My family was more working-class. My dad was in the army and my mom was a cleaning lady her whole life. I was completely unaware of the possibility of art." The one and only music shop in his small town became his main means of escape. Artists such as David Bowie, as well as bands like Kraftwerk and Joy Division were among his favorites and remain influential in his current design.
At the time though, becoming a musician was out of the question. Simons parents had worked hard to earn enough to support him through higher level study to help him get away from his small town. They didn't care what he became; whether it was a doctor, a teacher or a lawyer, as long as he went and studied it at university. Then, just before high-school graduation, Simons found a book at a friends house. Inside there was one page about industrial design. It's amazing how something so small can have such a massive effect on someone's life. Inspired, Simons began studying industrial design in university. During these years the Belgian fashion industry was growing rapidly and Simons found himself captivated by all the novelty and excitement. He began his career with an internship with Walter Van Beirendonck in Paris, where he was exposed to the work of Martin Margiela and Jean-Paul Gaultier. At the age of 27 Simons released his first independent collection on his label Raf by Raf Simons and immediately attracted a huge underground following.
Achieving commercial success takes a backseat to moving fashion forward when it comes to his vision for the labels he directs, and that's the main reason Raf Simons has gained a godlike stature within the fashion community. The Belgian designer has long been the headlight for radical menswear.  His ultimate fixation on youth culture in his earliest collections for his eponymous label found a niche market of young European hipsters, but more importantly, influenced other brands' more mainstream designs. Throughout the 90s and the early 2000s, he showed how innovative design can embrace new technologies and fabrics and rethink traditional structures. In 2005, Simons turned from rogue independent to the man behind a mega-brand, taking the reins of the men's and women's lines at Jil Sander and likely saving the Jil Sander mark. His highly influential vision might be best summed up by stylist/editor Marie-Amélie Sauve, who, in a 2005 New York Times Magazine piece, commented, "He did everything before anyone else, and everybody has copied him."
Simons is anything but typical in the fashion industry. In fact he makes great effort to avoid the typical structured fashion world in general. In the series Raf Simons #15, André Azevedo's fusion of multiple mediums including embroidery also step outside his worlds typical structure and form. The series serves as a compelling tribute to the iconic designer Raf Simons and his 15 year legacy in the fashion industry. Azevedo's exceptional synthesis of fashion, and art have most recently landed him the prestigious fashion illustration book by Martin Dawber The Great Big Book Of Fashion Illustration. No doubt we'll be hearing more from him soon.