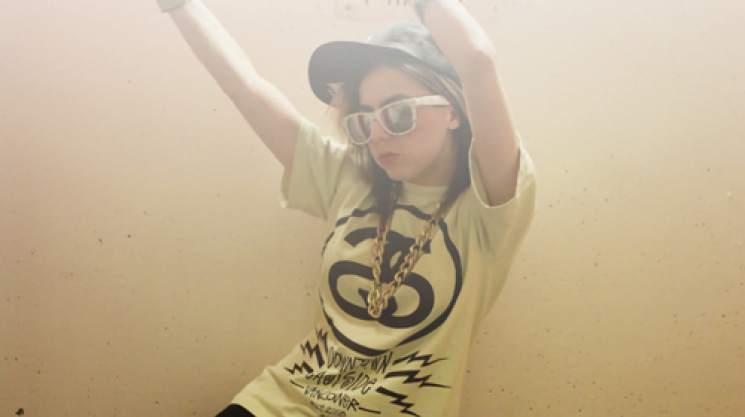 Wed, 07/01/2009 - 00:00 by AltaGrade
Lady Sovereign, a young midgetesque female Briton, raps in a manner that you can relate to. Although at first listen her music may not seem catchy enough, it quickly causes your mind to forget about priorities and your formal behaviour turns into an informal dance of the body. On the surface, lyrically, Lady Sovereign doesn't seem to offer very much that you can relate to. But relating one thing to another happens with a string of inevitability, because we do wake up late in the morning, and we do go out, and we are improper. Lady Sovereign lives in a reality that is her own but the general atmosphere she builds with her superlatively spoken raps can bring a smile to anyone's face.

Lady Sov embodies female masculinity—wearing solid pinks and aqua blues—with straightened hair and front teeth in angles that make her words come out like "yaa, yaa, so huuuuman." She looks pretty, but with a sensible dose of attitude. I ask her why she likes monkeys so much. Or what she's like. Or what something good is like. It's all, "Wild!" The word comes into play as a description of her behaviour, her experiences, and as an adjective to express almost any moment. When she speaks, she is excitable and it reminds me of her lyric "I'm a funky little monkey with the tiniest ears." She tells me it's true. She is a monkey and she always has been one and she'd love to always be around them, especially squirrel monkeys because "those are the cutest."
I ask her if she liked being a teenager. She says, "Not as much as other people do. I see others enjoying it more." I wonder if she means me. I wonder if she always resembled a pixie. "I was a little too private and introverted back then." It's difficult to imagine a person who has so much energy and is so outspoken as ever committing reclusive actions. But, children grow into something and I guess a shy little girl grew into Lady Sov.
She looks like a pixie and she speaks as fast as a bottle rocket. With the release of her second album, Jigsaw, she's made it. Running her own label, Midget Records, (remember her line: "officially the biggest midget in the game"?) and making all the choices in regards to her music is partly why she's so confident on the record. Although, I think she's confident in her music regardless. "I want more fans and to be heard. But, I think they come together," she says. It might take an album released made up screamo showtunes to get her a lot of attention and money, but no matter what, she's already done everything on her own accord and it's added up.
So what does Lady Sov spend her time in London doing? "Getting wasted," she laughs, Maybe in the oldest of days London was the greatest city on earth (and no one would dispute the fact) but it seems that, in this era, it carries a small number of offerings. For Lady Sovereign the offerings are solid: good friends, pub roof tops for climbing and salvia. She is a monkey with time to share amongst friends and, in her own way, the world.
What does Sovereign mean? "To me, it means a ring and a box of cigarettes." I grin, remembering that she got her stage name from a large sovereign ring she wore when she was younger. "I cannot answer what it means to someone else. What does it mean to you?" Soveriegn says the songs off Jigsaw are reminders of the days she's lived, and maybe never meant to be forgotten. This statement stands in a confusing manner next to the fact that after almost every question I ask, Lady Sov says "I don't know" or "I can't remember." I doubt it's drugs that prevent her from telling me too much—but I do think it's possibly that she's just grown accustomed to her chill lifestyling. She's in it and it's a snug place to be and she doesn't have time to waste…unless it's with the intention of getting wasted, when she remarks, "I am uncontrollable! Haha!"
Upon hearing her new album and seeing press photos, I noticed she looks more ornamented, more feminine. And although the video for her single "So Human" still focuses on her being a different kind of 'Lady', like much of Public Warning! didn't, Jigsaw enters a different realm of sensibility. It is interesting to hear a dancier record with a little more maturity. By maturity, I mean there are no samples of burps and farts in the background of her rapping like on "Love Me or Hate Me."
On Jigsaw, she also sings. So it's a little bit different, though necessarily better. "I wouldn't mind doing a country album or something. I'm always thinking about what to do next," she says. I feel like if Lady Sovereign wanted to become big fast, she could. And there was a time at the beginning of all the buzz when she was getting interviewed excessively and she just didn't want to deal with it. So now, things are happening how she wants them to and at the pace she wants them to. Running a label is part of it.
"I'm still in touch with reality and not swamped with money and bling, I don't talk about those things. I'm grounded. I'm a unique performer others can't touch. My parents always gave me the freedom to do what I want, and I still do!" There it is, she does as she pleases.