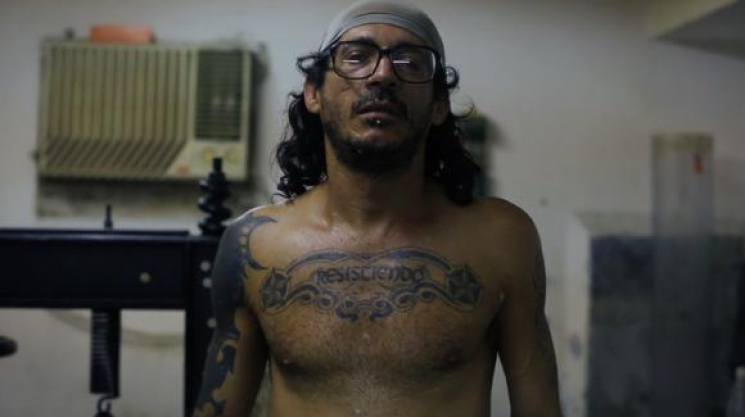 Wed, 01/29/2014 - 09:15 by Natasha Neale
After an extreme first day, the Travel Basecampers continue to discover the local culture of Cuba. In Episode 2 they go underground to the Bellamar Caves to cool-down from Cuba's heat while learning about the geography of the Varadere region from their new friend Jesus. Feeling enriched by their educational adventure in the caves, the Basecampers spontaneously join a group of Cuban kids in some bridge jumping while on the road into Havana.
Once in Havana, Episode 3 shows the Basecampers visiting a boxing gym to learn from the best fighters in Cuba. The national team coach puts them through a rigorous training regime before throwing them into the ring. Females are not allowed to box in Cuba, but there is one woman fighter at the gym, Namibia, who had never sparred with a woman until now with Basecamper, Sarah, and it's inspiring to watch.
As bike-polo has been adopted by hipsters around the globe, it naturally found its way onto the Basecampers radar which led them to look for a local club in Episode 4. Having never played, they take the court using old beat up bikes and handmade mallets learning that the game is harder than it looks, but a lot of fun to play, and that Basecamper, Troy, is a natural.
In Episode 5 the Basecampers visit the Taller Experimental de Gràfica, San Ignacio (Experimental workshop of Graph) which gives them a deep understanding of the life of an artist in Cuba—the kinds of support they get from the government and where they get their inspiration from. While touring the gallery they chat with the different artists and learn about the printmaking processes that are unique to the facility and gain an appreciation for the craftsmanship and passion behind the masterpieces.
Wrapping up their Cuba trip in true Cuban style, the Basecampers indulge in mojitos, dancing, music and more mojitos as they come upon the "Cafe Taberna" where members of the Buena Vista Social Club perform. Episode 6 recaps the adventures the Basecampers had during their trip and we are left wanting more! Viva Cuba! Basecamp Baby!
Stay tuned for new episodes on February 20th as the Travel Basecampers hack Cancun, Mexico! 
Want to win your own Basecamp trip? Travel Basecamp is giving away one week in Varadero and Havana for you and a friend to build your own Basecamp adventure! Click here for contest details. Contest closes January 31st.
Travel Basecamp is a DIY travel blog that follows a bunch of friends travelling around the world seeking alternative experiences in popular travel destinations. They hack the all-inclusive resort concept by treating the resort like a basecamp for their suitcase, but break beyond the gates to discover local culture.
For more information on Travel Basecamp and the Basecampers and their destinations, head over to travelbasecamp.com