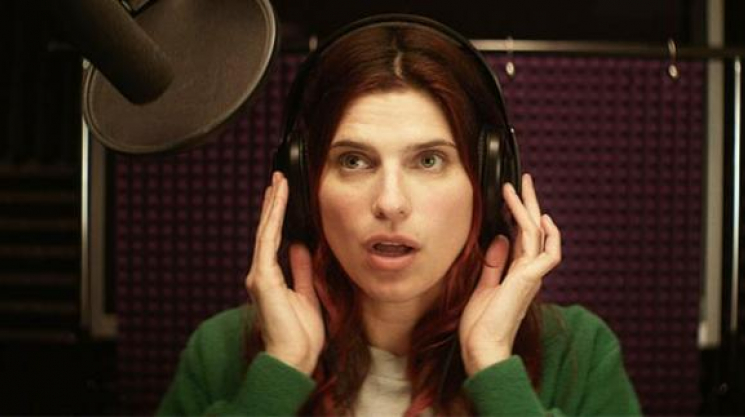 Thu, 08/15/2013 - 06:51 by Natasha Neale
I was once cast to voice a thirteen-year-old Korean boy (for the record, I am a Chinese Canadian female, and was twenty-three at the time) for an anime series. It was nice to know that I had "the voice" for this particular role, especially since I had always thought of my voice as sounding like a "sexy baby." Lake Bell is all too familiar with this, and, in her directorial debut, challenges this male dominated voice-over industry with In a World... 
Carol (Bell) is a charming and quirky vocal coach, who has bigger dreams of making it big as the main trailer voice for the quadrilogy 'The Amazon Games.' Unfortunately for Carol, her biggest competition just so happens to be her own father, voice over legend Sam Soto (Fred Melamed), and his protégé, Gustav Warner (Ken Marino). Carol's life is complicated even more when she is forced to move in with her sister Dani (Michaela Watkins) and brother-in-law Moe (Rob Corddry), after getting the boot from her father. Oh yea, Carol and Gustav also knock boots without realizing whom each other is. Drama, indeed!
Plenty of laughs are provided throughout the movie, thanks to the supporting cast of Tig Notaro, Demetri Martin, and Nick Offerman, but I couldn't help but continue to ask myself at times, "What is the point of this?" Bell spends a painstakingly long time focusing on the rocky relationship between Dani and Moe, and I simply found it unnecessary. With such a strong supporting cast, Bell could have used them better than she had; it is a shame that Notaro and Offerman do not have bigger roles. Nevertheless, Bell has written a smart and refreshing comedy on a subject that is easily overlooked in the movie industry. Destined to be a sleeper hit, In a World... will have all the sexy babies taking voice classes, in hopes of being the next thirteen-year-old Korean kid.  
In a World... opens exclusively in Toronto, Montreal & Vancouver on August 16th.