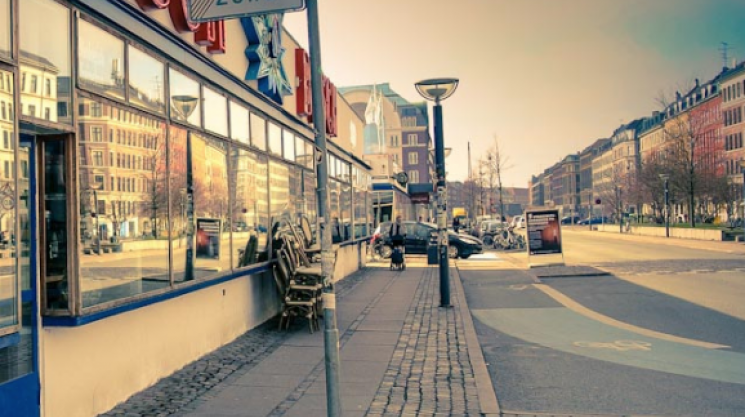 Wed, 06/13/2012 - 02:20 by Douglas Haddow
My red eye arrives on a Friday. I stumble out of the metro and ask the girl with Ray Bans for directions. Her cedar-print bag is comforting. Later, dragging my suitcase through a park, I pass men in Carhartt pants, plaid shirts. One leans against a tree, smoking a pipe. Another cycles past in a cloud of woodsmoke cologne. Despite having just landed in Copenhagen, I'm transported back to Vancouver Island, where most weekends my dad would pile a tent, my brother, and me into the car before driving to Tofino. We'd roast salmon over a smoky fire. The local surfers wore Carhartt pants—wrinkled and stained (unlike the Danish variety). My dad smoked a pipe.
Alison, an ex-pat who puts me up for a few weeks, tells me that our Canadiana upbringing is "actually quite cool" in Copenhagen. "You should have brought an old Cowichan sweater," she says. "I sold my dad's at a flea market for like four hundred." We're getting dressed to go out to the city's hippest new spot: The meatpacking district, or Kodbyen (literally, meat town). I reconsider my outfit—silk top, black harem pants, leather jacket—and wish I'd packed my old camping shirt. At least I'd be warm; even though it's drizzling.
Alison insists we'll sit outside at picnic tables. "Don't be such a wuss—we've been cooped up inside all winter. A little rain won't hurt." My dad used to say that, too. Unlike New York's meatpacking district, the Danish version resembles a strip of low-rise suburban car dealerships. Here, some of the city's best cafes, bars, galleries, and nightclubs are tucked away among massive slaughterhouses, of which several are still operating. Up close, rows of shopping carts rust into corners; delivery trucks line up against seemingly innocent storefronts—signs advertising both butchering services and drink specials.
We're joined by Julie, a songwriter who'd convinced us to meet at a Danish boy-band concert (understandably, she fancies the drummer). Julie is beautiful, wearing a baggy graphic polo and cowboy boots that remind me of my rodeo-star uncle circa 1996. Together, we hit three bars in one night. In the center of a wide parking lot, a giant copper bull watches over our hipster-debauchery.
At Master and Apprentice we drink our own beers at the beat-up picnic tables, then head inside for smoky whiskeys and old-school pop. It has a relaxed, country-meets-city vibe: wood paneled walls, a cozy dance-floor, and inconspicuous graffiti that creeps all the way inside the toilet bowls. Next stop is Paté Paté. Restaurant by day, wine bar after 10pm, this Euro hotspot provides a break against the district's dominant aesthetic. Paté Paté operates out of a former paté factory, with original fixtures and rustic bench-style tables. We enjoy its wine selection and clientele, but the kitchen closes at 11pm.
After several glasses of red, we follow Julie next door to Bakken, a small club that holds its own against the larger KB3, which doubles as a cultural centre and boasts a 13 metre-long bar. At Bakken, there's no cover and we breeze out onto the covered patio. Underfoot is green-painted cement, cigarette butts. Behind a stained picket fence, a guy sells beers from a cooler. The atmosphere is awkward—a bit like a garage party from my youth. I move through the smoke-filled patio, studying the tree-stump stools and the locals dressed in North Face and Steve Zissou hats… it's Canadiana with a crisp, Scandinavian finish.
The guy selling beers is clean-shaven, his Carhartts pressed; most of the women wear ACNE pants (not Mark's Work Warehouse); but most noticeably, everyone is taller, blonder, with whiter teeth than the kids back home. The Great White North, for lack of a better term, seems to be a recent aesthetic movement here. Last fall, Danish design brand Wood Wood showcased plaid shirts, rucksacks, and Hudson's Bay-blanket-esque ponchos at Copenhagen Fashion Week. A few months later, Henriette Hartmann and Dora Duna opened The Log Lady Cafe, inspired by Twin Peaks and "mother nature." Across the bridge at Grod, organic teas and steaming bowls of oatmeal are served on unfinished wood planks. If Sitka Surfboards opened a store, they'd make a killing despite Denmark's lack of surf.
I visit The Log Lady Cafe on my last evening in the city. The forest wall paper, Leonard Cohen records and light organic fare transport me home to Victoria, BC, where I did my undergrad. Later, back at Bakken, I keep expecting my old boyfriend to pop out from beneath a picnic table ("I lost 20 pounds and bleached my hair! Fancy a keg stand?") which likely accounts for my wallet going missing at 3am. But after dancing one song with a gorgeous Dane, his plaid shirt soft as beaver pelts, I forget about my empty pockets. I never want to leave this city.
Photography via.