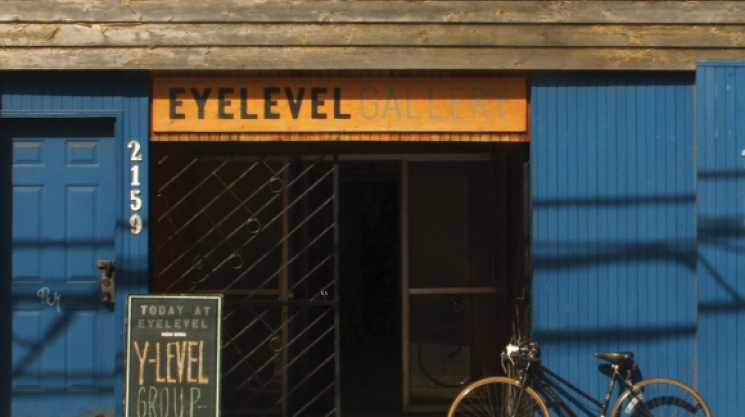 Fri, 08/17/2012 - 10:05 by vanessa
FOR THIS ONE TO WATCH, WE SCOURED
THE LAND FOR AN ART GALLERY WITH A DIFFERENCE. ONE OF CANADA'S LONGEST RUNNING CREATIVE CENTRES, EYELEVEL GALLERY SHOWCASES SOME OF HALIFAX'S MOST UNCONVENTIONAL ART. FOUNDED IN 1974, BY A GROUP OF NOVA SCOTIAN ARTISTS LOOKING FOR A PLACE TO SHOWCASE CUTTING EDGE WORK, THIS NON-PROFIT, ARTIST RUN CENTRE HAS KEPT TRUE TO ITS UNCONVENTIONAL ROOTS. NOT CONFINED TO AN ADDRESS, OR SOLELY THE CANVAS, EYELEVEL IS KNOWN FOR ITS ARTIST DIALOGUE, AND BREAKING DOWN THE CONFINES OF WHAT A GALLERY IS.
Tell me about the neighbourhood Eyelevel is in…
Eyelevel Gallery is on Gottingen St. in north Halifax. It's a lower income side of town, or used to be more so before gentrification set in at least 15 years ago. It's not manicured like other parts of town. I like it in that sense, lot's of interesting characters and local shops. I just watched someone walk by barefoot. There are also great French fries across the street.
Tell me a bit about the Halifax art scene…
It is often associated with NSCAD students and alumni, but it's really important to move outside of that margin. There are quite a few successful people here doing their own thing, renting out re-purposed spaces as studios and not relying on any institutions to do the things they want to do. That's the awesome thing about Halifax, these pockets of enthusiastic people who support each other. The music and art scene here have a lot of cross overs like that.
When did you open? Who started it up? Tell me the story behind it...
Eyelevel Gallery was founded in 1974 by a group of artists and others living in Nova Scotia. They included Roger Savage, David Haigh, Julia Schmitt Healy, Joyce Hanson, John Greer, Karl MacKeeman, Mary Kenny, Keith Laws, Haddie Prentice, and Donald Purdy. It was born out of a feeling of lack of support from commercial and university galleries for more contemporary and avant-garde work. It was their interest and goal to create a space to exhibit and support these new emerging practices, and with the help of newly available Council for the Arts grants, they were able to secure funding and set up a space.
What's the space like?
Eyelevel Gallery has been in nine different locations over the years. Our current spot used to be a Buckley's music store so our street entrance has a metal gateway that's sprinkled with music notes, and the old recording studio houses our archives. It's housed on the main floor of an old building so there is pegboard under the drywall and about five layers of flooring. Besides our office spaces carrying some of Eyelevel's late seventies nostalgia, the main gallery area is a pristine white rectangle.
What was the concept behind Eyelevel?
What sort of art do you curate? Our focus is on contemporary art, so it's remained a place for people to do performances or to showcase their art, as opposed to other commercial galleries or institutions. Alongside the presentation and preservation of such things, we also provide a space for public dialogue about art, artists and what those words even means these days.
What sets it apart from other galleries?
We aren't a commercial gallery, meaning our purpose isn't to commodify and sell the artwork that comes through here. We are a non-for-profit artist run centre, so the people around here are pretty passionate creatures. We are also one of the Canada's oldest and longest running artist centres to date. I know you say it's artist run, but who runs the gallery on a permanent basis? The director Michael McCormack has been dedicating his sweat and blood to this place the past few years. Also working at the gallery is Corey Isenor who recently built a permanent library of our 38+ years of archives. And our beloved summer intern Elizabeth Johnson, who is here to help coordinate the upcoming World Portable Gallery Convention 2012, happening in September.
What types of shows are you interested in running?
The World Portable Gallery Convention, we are ecstatic to be enforcing art in unconventional places, taking it outside of the white cube.
So is the World Portable Gallery Convention the upcoming show you're most excited about?
Yes! We are hosting a tonne of portable and mobile galleries throughout Halifax in public spaces. It will be a widespread, month long, variety show, featuring work by artists around the globe. Besides that, another current project has been opening part of the front entrance as a member's-only alternative gallery. This means more chance for people to have their work displayed in a smaller setting, I think it will be especially great for installations.
So, who is your pick for the artist to watch in the future and why?
Jesse Mitchell. He's done some performances at Eyelevel, and we're hoping he'll do an exhibition with us in the future! Read the interview with Jesse Mitchell here.