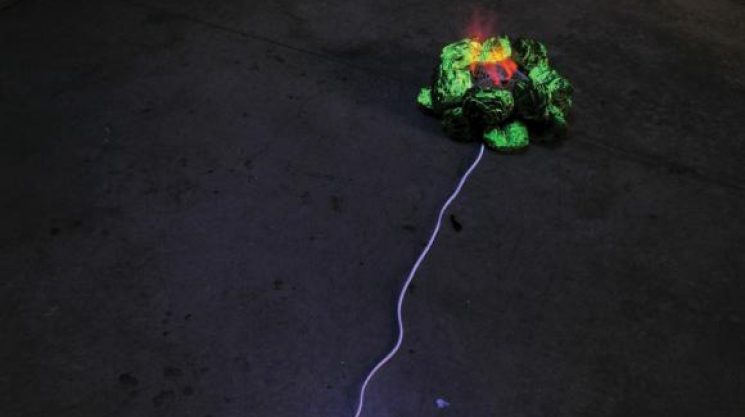 Fri, 08/17/2012 - 10:36 by vanessa
We asked one of the founders at Eyelevel Gallery in Halifax, who was their recomendation was of an artist to keep an eye on, and Jesse Mitchell was the artist.
So, Jesse, when did you start creating art?
I started making stuff when I was in my early twenties. I was really ill and basically bed ridden for a couple of years, I had a lot of spare time on my hands, it was the perfect situation to explore creative pursuits.
What inspires you?
I am fascinated by unspoken cultural knowledge and values that reside within mass production. Everything seems to say a lot more than its supposed to, especially failed products: B-movies, pulp-fiction, fake fireplaces, relaxation audio cassettes, bad interior design, out of date office furniture, and the self help industry. I like to exploit these inconsistencies and failures. Hopefully this process will help etch out a place for me to reside within our larger cultural milieu.
Who are your heroes in art?
I would say my uncle, John Mitchell. He is known for his work on the Mr. Peanut Mayoral Campaign, in conjunction with Vincent Trasov. He made stuff in a wide variety of mediums, but always with a biting and direct sense of humour. John had a hard go of things and passed away at a young age, but I grew up with his art all around me. His influence on me as a kid helped me understand very early on that art making is a non-linear path.
Who are your heroes in life?
John is also my hero in life because he attempted to live off making art and being true to his own beliefs, and that's not easy to do. Even if he kind of failed in the end, it's still important that he didn't just accept a life that wasn't for him.
Where do you live?
I live in Halifax N.S. It's a really good place to be creative.
When you aren't creating art what are you doing?
If I am not creating art I am watching movies or TV. Both are really important for me to digest on a regular basis.
You say you're an interdisciplinary artist - what sort of artistic mediums do you work in?
I work in every medium, except painting. I love exploring different materials and how they behave, but I tend to treat everything a bit like a drawing in the end.
What's been your favourite piece you've ever done?
I don't have a favourite piece because the answer to that question changes every day. It's really impossible for me to answer that question.
Which galleries have you worked with? How do you prefer showcasing your art?
I haven't worked with many galleries, mostly The Odd Gallery and Gallery 204, both in the Yukon, and some small DIY galleries in Halifax. I like gallery spaces but I don't like exhibiting stuff unless it's something I am really happy with. It takes me a few years to make something I like, and I find the practice of repeatedly showing the same stuff in a small city, like Halifax, kind of annoying as a viewer. How I showcase art really just depends on what the piece is like, all methods are potentially interesting to me.
What music do you listen to? Do you listen to something specific when you are working?
I listen to a lot of music, and every kind, but not too much when I make work. It has the tendency to influence me in the wrong ways. But if I am doing something manual or repetitive, I will for sure. Right now I am really into Black Dice, John Maus, Keiji Haino, Knaw Their Tongues, Slayer, Cousins, Arvo Parte, Bloodhouse, Broken Deer, Suicide, Cluster and Hank Williams. As you can tell, I love all kinds of music, I can't stress that enough.
What was your life like growing up?
Conventional? My parents were divorced so I grew up between Dawson City, Y.T. and Saskatoon, SK. Being in the Yukon was unconventional, I suppose. I imagine I grew up with way less rules the most kids. Also, gentrification didn't exist there until about eight years ago. It was a really open place.
Do you have any pets?
I have a very sweet cat called Purssies. It's a ridiculous name but it has an important story behind it.
Tell us a random fact about yourself…
I like to have my toenails painted.