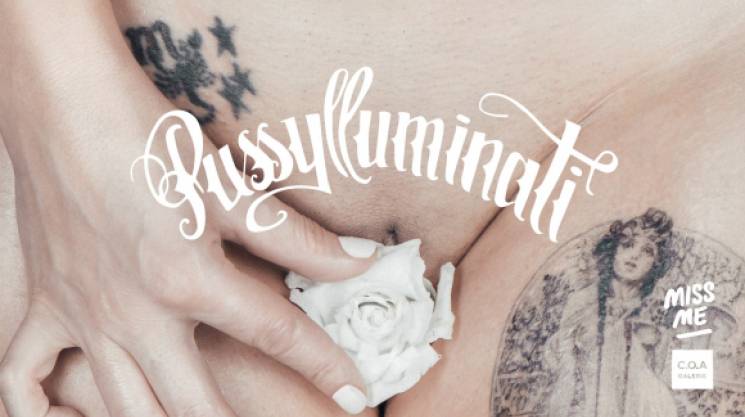 Tue, 09/12/2017 - 15:14 by karyn
You might already know MissMe for some of her previous projects such Jazz Saints, Politically Correct and Dessert For Breakfast, or by walking down the streets of Montreal, Miami, New York, Paris and Geneva where she has been busy wheatpasting and advocating for women and marginalized voices.
She's not one to do many exhibitions, and if she's not speaking at a panel or a conference, MissMe usually chooses the streets as her platform of choice. This time around, however, she is exhibiting her collaborative project with Montreal-based photographer Nastia Cloutier-Ignatiev at Galerie C.O.A, kicking off its 2017-2018 programme with a fierce statement. Quite possibly perceived by many as an unconventional art gallery exhibition, Pussylluminati is a "raw, relational artistic experiment" inspired by MissMe's self-titled project. Through the lens of Cloutier-Ignatiev, she breathes life into her work and unveils shots of pubes and vulvas from fifteen casted participants. Furthermore, she supports the photographs with a catalogue documenting the entire experimental process: the women's experiences as they share their authentic selves and truths, as well as her own interventions as she confronts societal issues relating to the perception of women, dignity and diversity.
Galerie C.O.A opened its doors for the first time in May 2014, and has been dedicated to showcasing artists who display unique aesthetics ever since. Easily accessible thanks to its central location, the gallery is open Monday through Friday, from 9:00 am to 5:00 pm, and Saturdays from 12:00 pm to 5:00 pm. Pussylluminati will run until October 7th, 2017.
Content may not be suitable for all audiences. However, that being said, all are welcome: children included. For more information on the exhibition or the artists, visit: https://www.galeriecoa.com/blogs/news/pussylluminati.
Pussylluminati
Galerie C.O.A
6405, boulevard Saint-Laurent, Montreal, QC