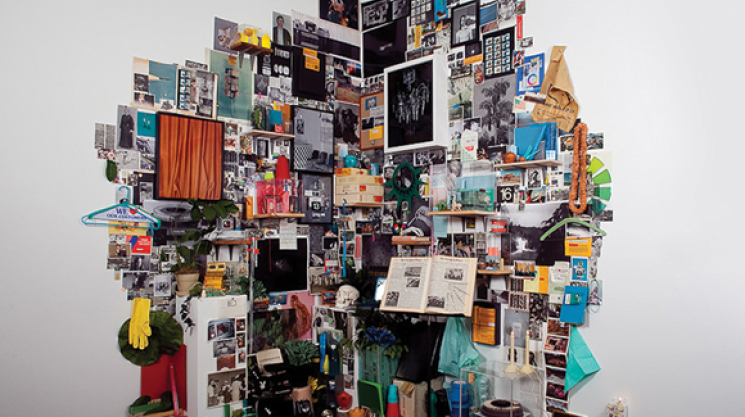 Thu, 12/27/2012 - 09:26 by vanessa
WE LOVE GALLERIES THAT PUSH BOUNDARIES. THAT DON'T EXHIBIT THE ORDINARY, OR OBVIOUS. THAT SEARCH, FAR AND WIDE, FOR NEW TALENT TO SHOWCASE AND INTRODUCE TO US IN THE GREAT WHITE NORTH. WHETHER THIS MEANS LOOKING CLOSE TO HOME, OR STRETCHING FURTHER AFIELD DOESN'T MATTER. THIS IS WHAT COOPER COLE DOES. THEY SEARCH. THEY LOOK OUT FOR ARTISTIC EXCELLENCE AND HAVE A DESIRE TO BE THE FIRST TO DISCOVER THIS, AND SHOW IT TO CANADIANS AND THE WORLD ALIKE. WE SPOKE WITH THE FOLKS AT THE TORONTO GALLERY TO FIND OUT MORE ABOUT WHAT THEY DO, AND WHO THEIR ONE TO WATCH IS.
Tell me about the neighbourhood COOPER COLE is in?
The gallery is located on Dundas Street, just west of Ossington Avenue, in the Little Portugal neighbourhood. There are many other galleries, a record shop, small boutiques, bars, and restaurants nearby. We're also within walking distance of a lot of galleries along Queen Street West, Ossington, and the MoCCA. It's an up and coming neighbourhood, and has a lot of young, cool businesses, as well as a pretty vibrant bar scene.  
What is the concept behind COOPER COLE?
The idea is to showcase emerging and mid-career contemporary artists. As well as Canadian artists, we try to showcase a variety of international ones, too, who wouldn't normally have the opportunity to exhibit in Canada.  What are your thoughts on the Toronto art scene? While the art scene here may be small compared to some American and European cities, there is a great sense of community, and a lot of fantastic young artists working here. For the gallery, it's nice to have a solid base of local, as well as international collectors that support our programming. There is such a vast amount of creative talent in this city, not just in terms of visual arts, but also in music, fashion, and theatre. Everyone is really supportive of each other and interested in what everyone has to offer.
When did you open? What's the story behind it?
Simon Cole, the founder of Cooper Cole, created the gallery firstly as an online venture in 2007. We then opened as a physical presence in our current space on Dundas Street in 2008. It began out of a simple interest in collecting contemporary art. The gallery was rebranded COOPER COLE in late 2011 to reflect the maturing roster of artists being shown.
What sets it apart from other galleries?
Whether it's a solo exhibition or as part of a group showing, we try to focus on introducing some of the top emerging, international, and contemporary artists to Canada. We do this by providing them with what is often their first opportunity of an exhibition north of the border - or even in North America as a whole.
What's the space like?
The gallery has a large main space, as well as a smaller project space, with hardwood floors and a good old tin ceiling. We also have a small framing and wood shop in the basement.
What types of shows are you interested in running?
Through our programming, we are interested in working with artists who show potential, and who we believe will have a strong following. We are interested in working with artists who have positive vibes, and are supportive in watching the gallery grow in an international, contemporary context.
What are your upcoming shows that you're excited about?
Throughout November we are hosting a solo show with Canadian artist Geoff McFetridge – his first in Canada. In April 2013, we'll be having a solo show with New York-based artist Lauren Luloff, which we're also really excited about. This is her first solo show in Canada as well.
Who is your pick for the artist to watch in the future and why?
It's almost impossible to decide on just one! American artists such as Ryan Wallace, Lauren Luloff and Joseph Hart, as well as Canadian artists Mark DeLong, Anders Oinonen, and Jesse Harris are all ones to watch. There are so many! If we have to choose one though, Ryan Travis Christian is our one to watch!