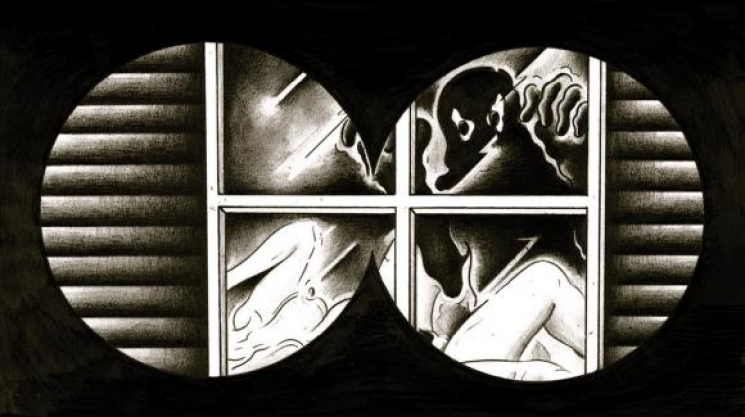 Fri, 12/28/2012 - 09:10 by vanessa
When did you start creating art?
Well, like most humans, I took kindly to painting and drawing as a toddler, so, my entire life.
What inspires you?
The beach, other peoples' creations, naked ladies.
Who are your heroes in art?
[Editor's note: Are you ready?] Guston, DeKooning, Carol Dunham, Ben Jones, Bjorn Copeland, George Condo, Chris Johanson,Dan Attoe, Allison Schulnik, Eric Yahnker, Ub Iwerks, Chris Duncan, Scott Wolniak,Cory Arcangel, Ben Stone, Paul Noble, TL Solien, Bruce Bickford, Raymond Pettibond, Basil Wolverton, Andrew Schoultz, Eddie Martinez, Evan Gruzis, Robert Colescott, Scott and Tyson Reeder,Robyn O' Neil, The Hairy Who. There are more, too many to name, as I have even more people I look to in visual art, and many more in music, film, and comedy.
Who are your heroes in life?
Everyone I have ever known that is a good person/ friend/ family member/peer/dog.
Where do you live?
The sweet, sweet suburbs of Chicago, surrounded by forest preserves and silly ducks. There's a river in my backyard. When you aren't creating art what are you doing? Hanging out with people, driving around, watering plants, watching films, going on bike rides, sending emails, petting pets, eating, and sleeping.
What artistic medium do you work in?
Graphite on paper mostly, its cheap and easy to manipulate. Occasionally other things slip into the mix, but it's predominately graphite. I hate cleaning brushes.
How would you describe your style?
A dirty, smoky, partially remembered, wiggly, throwback, blue collar, cryptic, vibrating, shiny free-for-all, with a light flurry of nudity.
What's been your favourite piece you've ever done?
That's a tough one. I love most of them for different reasons. Here and there I'll make a piece that comes out of nowhere. I am prone to especially like those works. It's neat to surprise yourself. River Rats 1, This House Was Built For Blappin' In, Merger, X2GO2WORK, and We Can Do It Faster Than You Can Say No all come close to that. I probably have not done my favorite piece I've ever done yet.
What exhibitions do you have coming up?
I have a travelling B&W show tiled Where My Cones At? featuring over 120 artist, and is still growing, that debuted in San Diego in July. It will be moving to many cities over the next six months, replete with comedy noise after parties. I am also excited about my upcoming solo exhibition at CAM Raleigh, in February 2013. I went down there earlier in the year to see the space and it is nothing short of pristine. I have big plans for it.
Have you had an exhibition at Cooper Cole?
YES!
What was it like?
It was quite lovely! Early this year (late April) I had a two person show there with my ultra-talented colleague and friend, Marissa Textor (who's drawing hand is more or less a printer). I had about 25 works, spanning pure abstraction, cartoons, and realist drawing.
What music do you listen to? Is it something specific when you are working?
I like more upbeat music in the studio - lots of podcasts, come to think of it - but I'm partial to most kinds of music.
What was your life like growing up?
I was an "only child." I have a few half-siblings, but they are much older than me, so it could get boring when I was really young. After I acquired some friends, it got pretty ridiculous. I've always lived in the suburbs. It was nice, I had structure but freedom as well. I was, and still am, loved by a great family and circle of friends.
Do you have any pets?
I live with a cat, his name is Fonzi, he's my girlfriend's cat. He's an idiot.
Tell us a random fact about yourself…
I saw a dead demon in a pizza parlour parking lot once.