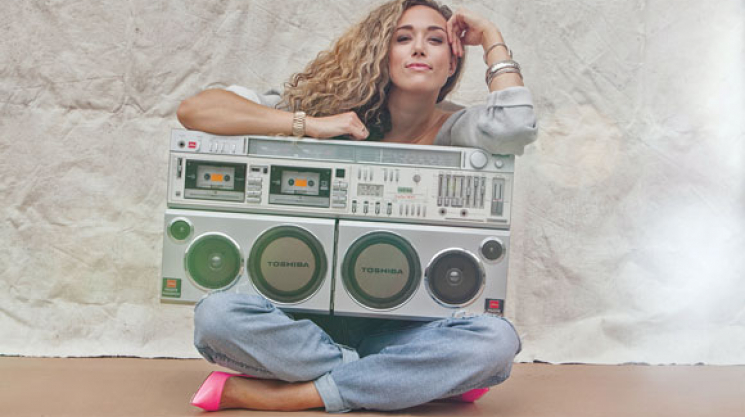 Tue, 08/13/2013 - 00:29 by Guest
Words: Josefa Cameron/Photos:Brendan Meadows
If you can imagine a perfect balance between the sass of the Spice Girls and the depth of Aretha Franklin, it would be Sophia Danai. Not only does the sound of her voice pierce past your soul like a spear, but she also has as much energy and positivity as the sun. And the cherry on top; she sat down with ION contributor Josefa Cameron after a full day of work looking like a top model. Her debut EP, Wishing Well, is the type you want to wear out on repeat until you're singing along. The backbeats are dark and the melodies are groovy. Think a West Coast sun kissed ease meets a New Orleans drawl. In reality, Danai hails from Langley, British Columbia, and between laughing about bad early 2000's style and contemplating the meaning of a music career, we discover that Danai has matured into a grounded artist while finding her place situated between genres of music.
Apparently Chin Injeti (Canadian singer, musician, and producer) discovered you via a YouTube video. Tell us about this - how did everything start rolling?
Yes he did. I made a video because I play this Electone home organ that has a lot of colorful buttons and things. I was in between places and living at my parents place and I made this video. In my head I thought, 'that would be hilarious if I made a home organ video in my parents' basement with laundry hanging in the background'. So I made the video, he saw it and I guess liked the whole charm of it. Then my Dad helped me move the organ into the studio and I just started experimenting and we ended up becoming writing partners!
How old were you when you first started getting involved with music. You have a very powerful voice, is that something that was developed professionally?
Oh thank you! Not really…I mean, I took lessons. I was always really interested in music. I took to piano and singing when I was really young; I took some voice lessons in high school. I wanted to go into it professionally around 2006/2007. That was when I was like, 'Ok, I'm going to write some of my own songs and do my own thing'. It's a big learning curve to start your own stuff; no one knows what they are doing when they first start!
What inspired you to start writing your own stuff?
I always wanted to be a performer. I was in acting school, I loved it, but I was always drawn to music. I would always pick up my guitar and play. I wasn't even confident about my voice at that point; I thought if I could start writing songs, I'd be fine. Like Bob Dylan wasn't a good singer but he was a great songwriter. When I started writing songs, I felt like I found my thing again. I knew it was what I was supposed to do and then I went for it.
Are there any particular bands or artists that inspired you when you were younger and/or now?
My mom introduced me to a lot of sixties music like Aretha Franklin, Billie Holiday, The Archies; stuff like that. Then I grew up in the Spice Girls, Britney Spears era, so that influenced me a lot. As I got older, artists like MIA, Feist, and Emily Haines really started to influence me.
You have a large array of people working with you to make Wishing Well (the magazine) as well as the album, how did you choose these individuals to work with? What was it like collaborating with some big names in the industry?
It was very natural, things happened very organically. When I first started everything with the magazine I was very resistant to social media. I just felt awkward promoting, I didn't have that online bug. So my publicist decided to make a magazine, so we could express things through a magazine format. I began bringing people on that I worked with, like different artists. My old roommate is a great graphic designer and so she helps with that. For the EP, Chin works with an array of people, so if the collaboration worked out or if we seemed to work well together we would go with it. The only one that I did not meet or really know well was Khalil. We just collaborated online. Collaborating with someone is like dating, there needs to be a sort of chemistry. It's a very intimate and personal thing to work with someone on that level. It's no fun to work with someone who you don't have musical chemistry with, it's like, 'why didn't I think of an escape call earlier?'
What does your process of writing a song normally look like? Do you have much control over what is done or not done? Are the results conveying messages that you want them to convey?
Yeah. I am a writer so it's not a rule but I always need to have a hand in the songs that I am going to sing to be emotionally connected. That's not to say that there is not an art form to just singing someone else's song. Writing is huge for me. Every song on the record happened differently. Some of them I wrote over time. Like "Wish You Well", I wrote in pieces overtime. The other songs Chin and I co-wrote. Sometimes we would come up with something and record in one day. We got into a rhythm of writing really fast; we ended up having about 40 songs to choose from. It helped me grow as an artist and to dive into what I wanted to be. It's good to allow that discovery process and to have someone supporting your creativity. I feel like if I wrote all my own songs only, a lot of them would turn out to be really sad and folky.
Is there a common theme weaved throughout Wishing Well?
It's really about beginnings and endings. I was coming out of something bad and moving forward into something good. "Falling" was inspired by Snow White's "Wishing Well". I am inspired by a bunch of different things. I love the symbolism of the word 'wishing', it's hopeful and dreamy. 
What is your favorite thing about performing? 
I love performing. It's like the best drug out there. I find the stronger I become as a musician, the better I get, the more free I am up there. I love it all; I love the writing process and recording as well. Now that I've spent two years building this album, I am very ready to start performing more. I go down to LA sometimes with Chin to work with artists, I think I will be going down there soon, as well as doing a Canadian tour. I'm kind of worried about managing my health on tour.
Yeah, It's hard to find a balance in the music world. It can be hard to find yourself on tour.
It totally is! You need to stop every now and then. I try to be aware of my health like drinking lots of water and being diligent about exercising, it makes everything so much easier. You go out all the time because of music. You need that balance.
Do you have any advice for solo artists other than keeping your health?
Try to be as self sufficient as possible. Not that you should do everything yourself, but you should be aware of the industry, know your instrument, don't be too naive. You have to be gentle with yourself, don't be too critical of yourself and do things that are genuine to you. Don't compare yourself; don't try to be like other people.
What do you see yourself accomplishing in music? 
I want a career in music that has longevity; I want to be a career artist. I want this for the rest of my life. I want to help people, to help them reflect on their own lives, to escape, have fun and all those things. I'm writing from my experiences and if someone can grab onto a piece of that and if it can help them or help them have a good time or dance along to it, then I am totally thrilled. I put a lot of intention into my lyrics and music in general. 
Sophia's debut EP Wishing Well is now available from The Hastings Set, as is the latest issue of her magazine of the same name. Catch her on tour soon!