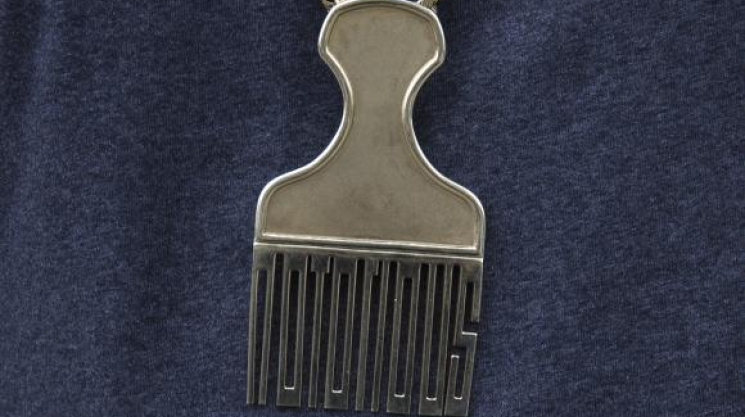 Tue, 08/19/2014 - 00:20 by Natasha Neale
Notorious may only be under a year old, but this barbershop has already garnered quite a reputation. 
Nestled in beside hot spot Bar de Courcelles on Notre Dame street in Montreal's St. Henri neighborhood, Notorious is a carefully assembled black and gold Versace vision, humming with activity from the moment it opens every day. Bursting with style, every gorgeous detail in the shop is the result of a design collaboration between co-owner Corey Shapiro and Gauley Brothers, a local construction firm specializing in upscale interiors. The result is yet another diamond in the otherwise rough streets of this up and coming southwest neighborhood. 
Only a few blocks west of his first (and very successful) venture Vintage Frames, Shapiro has high fashion sewn up, but still manages to create a warm and welcoming environment for all at Notorious—thanks in no small part to the friendly, professional staff and the great musical choices on tap. Boasting an eclectic mix of talents and styles—including the award-winning and internationally successful fade artist Famos (a.k.a. Scott Ramos), Olivier Miclette and Barber Streisand (a.k.a.Leandro Vergara)—Notorious offers not only stylin' haircuts, fades and shaves, but also a luxurious shampoo/head massage combo, the highest quality mens grooming kits, and provides a host of complimentary scotches if you're in need of a drink. Based on our experience, Notorious has earned its shiny new place on the map, and won't likely fade anytime soon. 
Call in advance for an appointment, because these boys are busy taking over the block. 
What is the inspiration behind your shop?
I co-own the shop with P-Thugg (from Chromeo) and both of us do a lot of travelling. Typically, whenever we were in the same city at the same time, we would go to different barbershops. We like them because they're fun places to be—relaxing environments where you can just fuck around, chill and talk. And we would always complain that there was nothing like that in Montreal. Eventually we decided that instead of complaining about the lack of options back home, we should just do it ourselves. So we bought the building, threw a huge amount of money into the hood—the whole design is Versace—and turned our vision into reality. Our goal was to create a really non-segmented space, a friendly environment that stays true to the 1990s Versace vision of cultural inclusivity, and at this point we couldn't be happier with how it turned out.
What does this location mean to you?
Notorious was always meant to be a raw concept, and I feel like this is kind of a raw neighborhood, so in a lot of ways this was always the play for us. Some people might say that the store is very hip, or that it has a plateau sort of vibe, but we feel that there's nothing cool about what we're doing. In the same way that the mix of people in this neighborhood all have their own unique identities and styles, our concept was to have a bunch of different styles going on. We have a really hip-hop type barber, we have a more rockabilly type barber, we brought in some really talented dudes from out of town...Essentially, what we wanted was for it to be able to stand on its own in a community where it might not necessarily fit in. 
What is your favorite piece in the shop?
There are so many individual pieces in the store that I love, but if I had to choose favorites it would be a tie between the Versace sconces on the wall and the framed Biggie print on the back wall of the shop. That one is a very rare Jonathan Mannion print from the Ready to Die concert where Jon snuck onstage to get the shot. I love it. 
What music is on your playlist?
Typically you'll hear a lot of hip hop, but our taste is rather eclectic. Right now we're rocking "VH1's 100 Greatest Hip Hop Songs" playlist on Songza, but at other points we have P-Thugg curate a custom playlist, which is usually a mix of hip-hop, funk and soul. 
What are your top three places to go in Montreal?
I like Orange Cafe. I know the owners there but that's not why I'm giving them a shout out. I eat there a lot and I love it. I also like to go to Cho, that's a great Japanese pub down the street. My other favorite place is the airport. 
Notorious
4677 Notre Dame West, Montreal